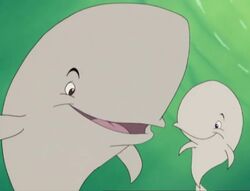 The White Whales are an endangered variation of sperm whales. The whales are possible descendants of Moby Dick.
Background
Edit
The last two white whales are very fearful of hunters or captures in captivity. Flipper and Lopaka were able to save them from being captured in the cage. The whales thanked them for saving them from being captured.
Etymology
Edit
The name "white whale" is an allusion to Moby Dick, an albino variation. It is also another name for the beluga whale.