Professor Kerava is Chief Kepuna's friend and is one of the eldest citizens of Illoka that lived here. He remembers almost everything about Illoka by sharing stories with the chief.
Background
Edit
Kerava is usually known to tell stories to the citizens of Illoka. Kerava turns into a turtle every time when Flipper and his allies meet him. However, his name is changed as "Calabash". He is also helpful to other characters.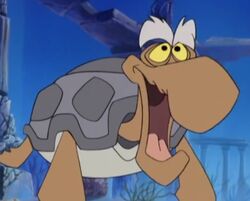 Ad blocker interference detected!
Wikia is a free-to-use site that makes money from advertising. We have a modified experience for viewers using ad blockers

Wikia is not accessible if you've made further modifications. Remove the custom ad blocker rule(s) and the page will load as expected.