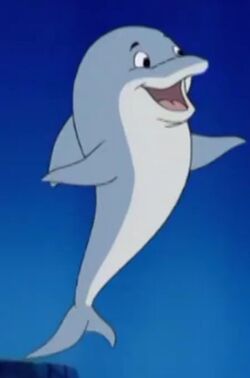 Flipper is a dolphin whose best friend is Lopaka. While Flipper is silent in many of his appearances, Flipper has the ability to speak.
Physical Appearance
Edit
Flipper is based on a bottlenose dolphin.
Personality
Edit
Like in many of his previous appearances, Flipper is very intelligent. This shares to many comparisons why the dolphins are intelligent. However, Flipper is agile and his parents are the rulers of the underwater city of Quetzo.
Since Season 3, Flipper has a companion named Ultra on his adventures with Lopaka and his friends.
Appearances
Edit
The Lost City (first appearance)
Flipper and the Secrets of Quetzopolis
Flipper and the White Whale
The Sting of the Stonefish
Like his live-action counterpart, his animated version is fictional.
Ad blocker interference detected!
Wikia is a free-to-use site that makes money from advertising. We have a modified experience for viewers using ad blockers

Wikia is not accessible if you've made further modifications. Remove the custom ad blocker rule(s) and the page will load as expected.